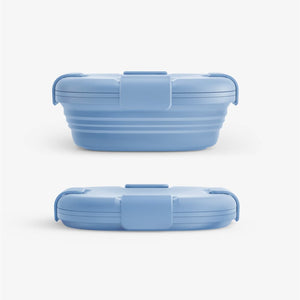 Perfectly portable and easily stackable, our box is designed for lunchtime, picnics, and those bite-sized moments in between.
A sustainable swap for those pesky single-use baggies!
This comes in our collapsed packaging which shows our product in its smallest form, 1.3 inches in height. This packaging type is perfect for small space storage and gives customers a quick glance on the collapsibility benefit of a Stojo cup. Four clasp lid creates a spill-proof seal Dishwasher and microwave safe, comes apart for easy cleaning LFGB Platinum cured premium food grade silicone bowl BPA-free BPS-free polypropylene lid, clasps and ring (grade 5 recyclable too!) No phthalates, leads, or glues Capacity: 24 oz (700 ml) Height (expanded): 2.5" (6.3 cm) Height (collapsed): 1.2" (3.0 cm) Width: 6.5"