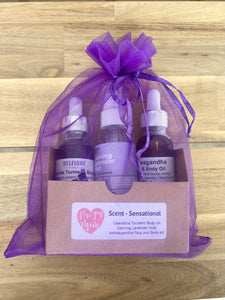 Includes Calming Lavender Mist, and two brand new Belfiore products: the Ashwagndha Face and Body Oil and Calendula Turmeric Body Oil.
Calming Lavender Mist:
Let your stress fade away! Made from the purest Lavandin Grosso plants grown on our farm in California, this unique Calming Lavender Mist will rejuvenate dull skin with a spa-like feel. The gentle scent of lavender from this naturally formulated two-ingredient mist is relaxing and refreshing anytime of day or night. 
How It Works:

Use this light, natural mist to hydrate and refresh your skin as part of your morning or bedtime skin routine. Lavender hydrosol is full of antiseptic and antibacterial properties along with vitamins A and E, which keep your skin moisturized. The natural scent of lavender is calming to the nervous system and known as a mood enhancer.
Ashwagndha Face and Body Oil:
Reduces stress and energy
Ingredients: Organic Ashwagandha, Helianthus Oil, Lavender and orange essential oils
Calendula Turmeric Body Oil:
Deeply hydrating to control fine lines and sun spots
Ingredients: Organic Calendula, Tumeric, Helianthus oil