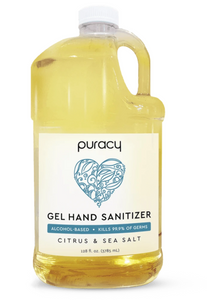 * For all online purchases, refills are only available with the purchase of a glass or aluminum bottle
Presently we offer 1 Gel Hand Sanitizer.
It is $.78 cents per ounce. 
First, go to the container section and choose your container (glass or aluminum).
Make sure the ounces of the container match the ounces you purchase here.
* Then, we will prepare your refill purchase and let you know when it is ready. 
GEL HAND SANITIZER - 70% ALCOHOL
PURACY
Our 70% alcohol formula kills most germs. From a gallon jug to TSA-approved bottles, there's something for every home, office, clinic, and purse. Best of all, this formula keeps your hands soft – even with regular use. Features of Puracy Gel Hand Soap

Puracy Gel Hand Sanitizer meets key FDA & medical requirements for use as an antimicrobial against viruses, bacteria, and fungi. Isopropyl alcohol (IPA) is relied upon in healthcare settings for its antiseptic properties.

Not only does our hand sanitizer gel eliminate germs, but our gallon container means you won't have to worry about running out – even with repeated use throughout the day. Our effective and economical alcohol-based formulation will help keep hands germ-free.

Note: Puracy Gel Hand Sanitizer is non-foaming and works with our liquid pumps (not our foaming pumps).

Built for heavy use, but leaves hands soft.

Regular alcohol-based hand sanitizers can leave skin dry, cracked, and more prone to infection. That's why Puracy Gel Hand Sanitizer's non-drying formula includes a blend of purified water and plant-based moisturizers to help keep hands silky-smooth.

 

 

 

 

KILLS MOST GERMS, BACTERIA, & FUNGI
Not pretty — just pure performance.
We didn't spend time making this a "pretty" product: It was all about finding the right ingredients to make the best alcohol hand sanitizer possible. Since time was of the essence, we also produced this as quickly as we could to ensure that families and hospitals had effective gel hand sanitizer in bulk.
Ingredients & Use
Active ingredients:
Isopropyl alcohol 70%
Inactive ingredients:
Water, Glycerin, Hydroxypropyl cellulose, Aloe vera, Tocopheryl acetate, Caprylyl glycol, Natural oils
Directions
Apply a small amount of gel into palm of hand. Rub thoroughly over all surfaces of both hands for at least 15 seconds. Rub hands together briskly until dry.
** Also available for sale in 1 gallon containers to refill your smaller containers or add a pump to it. Contact planetrenu@gmail.com for pricing & shipping.
*** FREE LOCAL PICKUP always available