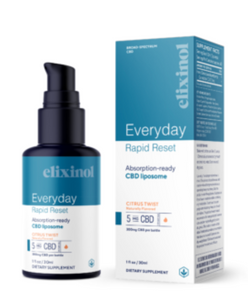 Most potent CBD! This liposomal CBD has been renamed and reformulated so it is better tasting with a less "thick" texture.

Product Details
Broad-spectrum, 0mg THC
When you need a moment to pull yourself together, just press reset. Our liposomes are microscopic bubbles that carry CBD, making it easy and efficient for your body to absorb. They give your body more CBD per serving that might otherwise be lost in the digestive process.
Liposome technology for efficient CBD absorption
Great taste - naturally flavored with orange & lemon extracts
Broad-spectrum hemp extract for nearly undetectable THC
Supercritical CO2 extraction method — no harsh solvents
Serving suggestion: Shake well. Take 5 pumps 1-2 times daily or as needed by mouth or stirred into water
Ingredients: Hemp Extract, Cannabidiol, Purified Water, Phosphatidylcholine, Capric/Caprylic Triglycerides, Plant Sterols, dL-alpha Tocopherol, Monk Fruit Extract, Lemon Oil, Orange Oil, Citric Acid Monohydrate, Potassium Sorbate, Sodium Benzoate, Sodium Chloride