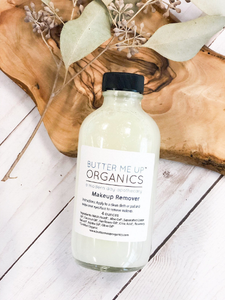 This lovely makeup remover comes highly requested. Made from non-toxic ingredients, this makeup remover is extremely efficient and won't dry out your skin.
Simply shake and apply to a clean washcloth or cotton pad and rub across eyes or face to quickly remove makeup. Item comes in a 4 oz recycled glass bottle.
Ingredients: aloe, witch hazel, saponified castor oil, olive oil, sunflower oil, coconut oil, citric acid, rosemary extract, water.