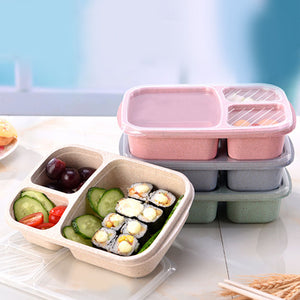 Wheat straw is an eco-friendly alternative to plastic. 
These wheat straw reusable food storage containers are great replacement for lunch, snacks on the go and storage.
Benefits of Wheat Straw Food Service Products
Sturdy and strong
Microwave and freezer safe
Dishwasher safe
Handle hot liquids up to 200 Fahrenheit
Do not put in oven
Non-allergenic and gluten-free
Fully compostable through home and commercial composting (composts completely in commercial facilities in 1-2 months)
Dimensions: 6" x 9.25" x 2"
 Color Options: Pink, Gray Blue, Green & Beige
* In-stock, shipping 3-5 days
** If not, shipping approx. 12-20 days