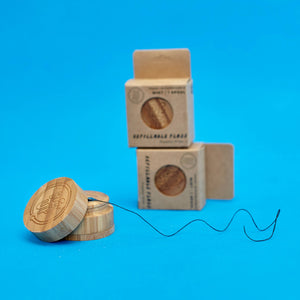 Finally, a refillable floss container!
This floss container can be reused over and over, refilled with new spools of our corn floss.
Our reusable floss containers are made from bamboo, a naturally-grown renewable resource that does not require pesticides. Every bamboo container includes one spool of our vegan corn floss!
Bamboo is naturally antimicrobial but requires a little TLC to make sure it lasts a long time. To reduce cracking, keep the bamboo parts dry and do not soak or submerge them in water. To avoid discoloration and potential mold, keep dry and store in a dry location between usage.
Once worn out, bamboo can be composted at home or commercially, or buried out in the garden. So...put that bamboo back into the soil, whence it came. Our corn floss spools are core-less (less waste!), 50 meters long, vegan, and come in compostable packaging.