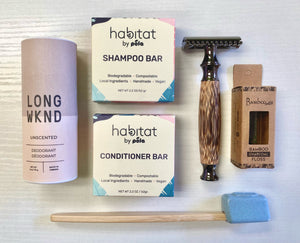 Enjoy this Eco Bath Kit with all the essentials.
It includes:
1) Vegan Deodorant- A fantastic-smelling, organic vegan push-up deodorant stick for lasting freshness. Naturally scented with coconut and pure vanilla and made with entirely food-grade natural ingredients, no synthetics, no aluminum, parabens, or sulfates. 100% backyard compostable packaging and formulation. Available in refreshing tropical coconut or bold and bright lavender scents.
This entire package is made with recycled paper and is fully compostable and environmentally friendly – from packaging to naturally biodegradable ocean friendly formulas. 2 oz.
2) Shampoo Bar- Naturally scented with organic clays, oils and Aloe, to boost vitamins needed for your hair and scalp. Easily lathers, removes build up, and leaves your hair healthy and smooth. Aloe and French clay promote hair growth, cleanse, and balance your hair's natural oils. Shampoo colors may vary. Lasts approximately 50-75 washes (may vary!). Equivalent to 2-3 16 oz plastic bottles of liquid product. Color-safe, can be used with extensions. 2.5oz.
Its ingredients are food-grade. They're made with Lathanol LAL, Cocamidopropyl Betaine, Grapeseed Oil, Glycerin, Xanthan Gum, Sunflower Oil, Aloe Vera Extract, Panthenol Pro Vitamin B5, Black Brazilian Clay
3) Conditioner Bar- Moisturizes and detangles, leaving hair incredibly soft, shiny and frizz-free. After many iterations, we've formulated a nourishing conditioner that delivers a perfect balance of bounce and slip. Enriched with organic clays, oils and aloe for a long-lasting healthy look and feel. Lasts approximately: 50-75 washes (may vary!) or 2-6+ months. Equivalent to 2-3 16 oz plastic bottles of liquid product. Color-safe, can be used with extensions. 2.2oz.
4)Stainless Steel Safety Razor with Bamboo Handle- Single blade for a super effective and close shave! No more razor burns, irritation, or ingrown hairs.
Set Includes: 1x Razor 10x Refill Blades 1x Packaged in Jute Bag
Weight: 2.7 oz
Length: 5.7"
5) Vegan Bamboo Floss- Our floss game is strong - literally! This bamboo floss is so strong! The glass jar looks amazing on bathroom counters.
Refill packs available.
Keep this original container and order refill packs - next step of low waste living!
Ingredients: Bamboo Plant Based Candelilla Wax Tea Tree Oil for Mint Infusion
* Floss Spool Dimensions: 90 feet / 30 meters
6) Environment-friendly Bamboo Wood Toothbrush For Adults
7)Wheat Straw Reusable Toothbrush Travel Cap