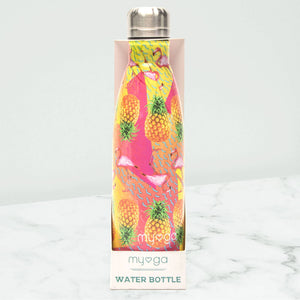 The reusable, eco-friendly water bottle with double walled vacuum technology is BPA phthalate free as well as nontoxic.
The high quality silicone ring ensures no leaks no matter how much you shake it, and the double wall design helps prevent sweating. This bottle is not just a great buddy for Yoga but also for any occasion whether its CrossFit, Gym, Pilates, Hiking, Camping or Walking.
Cold liquids stay cold for 24 hours without any condensation on the outside of the bottle and hot liquids stay hot for 12 hours.
You can bring hot soup or tea to the mountain or cold water to the lakes and can be sure that it will have the right temperature when you are ready to enjoy. The wide mouth of the bottle fits ice cubes.