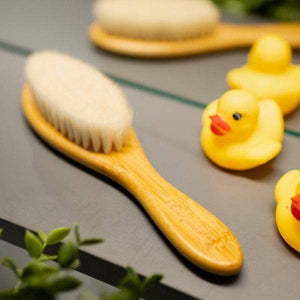 Bamboo Baby Hair Brush with Goat Hair Bristles
This hairbrush is unbelievably soft and oh-so gentle on your newborn's delicate scalp! This hairbrush helps distribute your baby's natural oil across their scalp - helping to prevent cradle cap and encourage hair growth.
Dimensions: 7 inches long 2 inches wide 1 inch bristle length
Environmental Impact: This completely compostable hairbrush is not only great for promoting natural scalp health, but also safe for our planet.