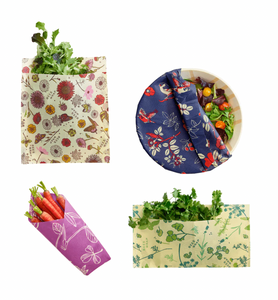 This eco-friendly gift pack has everything a gardener needs to keep their bounty fresher, longer. Featuring a food wrap, bowl cover, herb bag, and produce bag to preserve the fruits (and vegetables) of their labor without any plastic.
Reusable. Wash in COOL water with a mild dish soap. Let air dry.

Made of beeswax, organic cotton, organic jojoba oil and tree resin.
Gardener's Bundle contains:
1 x Meadow Magic Produce Bag (11" x 11")

1 x Herb Garden Herb Bag (13.5" x 5.75")

1 x Botanical HexHugger

™ Salad Bowl Cover (14.5" x 14.5")

1 x Clover Medium Wrap (10" x 11")
* Ships in 3-5 days 

Commonly asked questions on how to care and use for Bee's Wraps:
http://bit.ly/2Pqh8l1