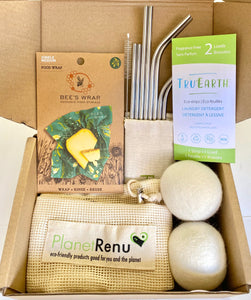 Get started on your Eco Journey with our "Get Started Eco Box".
Each box contains great items that you can really use:
1) One organic cotton produce bag (now you don't need to take the plastic produce bags at the store or farmer's market because you brought your own)
2) An 8-piece metal straw set (it has a handy reusable pouch with short and long, straight and curved straws as well as 2 straw cleaners)
3) A 2-pack of Tru Earth laundry strips (a very eco, non-plastic way to do laundry, each strip is 2x6 inches and goes in with the clothes and safe for the greywater)
4) One medium bees wrap (One of my FAV products- so easy to use and a great saran wrap or plastic bag replacement and will last 8-10 months!)
5) 2 wool dryer balls- great for drying clothes, reducing drying time, static cling and wrinkles. 
* This great box is available for yourself, as a gift (we can mail it) and in bulk for corporate orders. Contact Amy at planetrenu@gmail.com for more info on large orders.