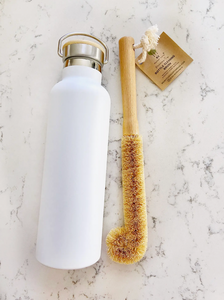 Multipurpose scrub brush for a natural and sustainable option for cleaning reusable water bottles, baby bottles, toilets, dishes and more. Bristles are a medium stiffness creating a deep clean without abrasion. This brush is durable and long-lasting. Made from coconuts, wood, and has a cotton loop to hang.
Care Instructions: Hang to dry between uses. Wood in naturally antimicrobial, but if you need to clean your brush, clean with vinegar to kill bacteria.
Length: 11.5" and the Tip Width is 2"

The wire of the tip is bendable to fit slightly different openings. 
Mother Earth Approved: Bristles are made from dried coconut husks, handle is wooden for a comfortable controlled grip and has a natural cotton loop or twine loop for hanging. Bristles may shed a bit during use, but better to send coconut down than drain than microplastics!

How to Dispose: Lasts 6 months- 2 years depending on use. After which, it can be demoted for use in household cleaning. The bristles, handle, loop are home compostable, and the metal wire is scrap metal recyclable. Bury in your garden and remove the wire later, or pluck bristles and compost components.