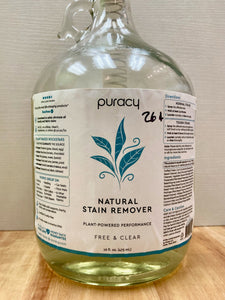 * For all online purchases, refills are only available with the purchase of a glass or aluminum bottle
Presently we offer 1 Natural Stain Remover.
It is $.28 cents per ounce. 
First, go to the container section and choose your container (glass or aluminum).
Make sure the ounces of the container match the ounces you purchase here.
* Then, we will prepare your refill purchase and let you know when it is ready. 
NATURAL STAIN REMOVER
Puracy

Six plant enzymes eradicate the toughest of stains, while gently preserving & restoring your fabrics.
Features of Puracy Natural Stain Remover
The most powerful laundry stain remover available, guaranteed

New and improved fine mist sprayer for better coverage

Powered by ALL SIX Plant-Based Enzymes (our closest competitor only uses three)

Developed by doctors, trusted by families everywhere 

Proprietary blend of plant-based cleansers safely remove grass, berries, blood, sweat, oil, tomato sauce, cosmetics, pet accidents, dirt, and hundreds of other stains and odors

Eco-friendly solution pretreats over 800 stains per bottle

Color-safe formula works great on clothing, linens, carpets, floor mats, car seats, cloth diapers, and other washable fabrics 

Naturally derived, hypoallergenic, vegan, gluten-free, and biodegradable 

No SLS, SLES, sulfates, phosphates, animal by-products, chlorine, bleach, dyes, petrochemicals, caustics, or optical brighteners 

Biodegradable formula is safe for the environment, gray water, and septic systems 

Never tested on animals and

 

Certified Cruelty Free
The original hand-drawn artwork on this bottle helps support local artists
Free & Clear
99.96% Natural
Powered by all six plant-based enzymes (our nearest competitor only uses three), Puracy Natural Laundry Stain Remover is the most powerful stain removing product available. We guarantee this product will safely remove any fabric stain, residue, odor, and spot put in its path.
Enzymes are proven to be the safest, most effective ingredients to remove and eliminate stains and odors. Think of it like this: If stains are the lock, then enzymes are the key.
Our professional strength formula was developed in a lab by a team of Ph.D. chemists with decades of experience working with green formulas. It was then reviewed by a team of MDs to evaluate the overall safety and hypoallergenic designation. And finally, it was tested by parents, athletes, and laundry aficionados (yes, they do exist) for performance. Using only a couple of sprays, the head-to-head tests have proven our proprietary blend of plant-based enzymes and natural minerals can clean as well as harsh, petroleum-based chemicals.
Our unique formula quickly dislodges stains, eliminates odors, removes residue, and leaves your fabric clean and fresh — all while being a gentle and renewable solution.
Ingredients
Purified Water, C10-C16 Alcohol Ethoxylate (Plant-Based Cleanser), Decyl Glucoside (Vegetable-Based Cleanser), Vegetable Glycerin (Plant-Based Softener), Propanediol (Plant-Based Preservative), Protease (Plant-Based Enzyme), Sodium Borate (Natural Mineral Cleanser), Amylase (Plant-Based Enzyme), Sodium Citrate (Plant-Based Water Softener), Lipase (Plant-Based Enzyme), Pectinase (Plant-Based Enzyme), Mannanase (Plant-Based Enzyme), Cellulase (Plant-Based Enzyme), Benzisothiazolinone (Biodegradable Preservative), Coconut Fatty Acid (Plant-Based Foam Reducer), Calcium Chloride (Natural Mineral Stabilizer)
Directions
NORMAL USE: Spray the affected area and wait at least 15 minutes before laundering.
TOUGH STAINS: Spray then massage the affected area with a soft brush. Wait at least 8 hours (can be left on for days), then launder with the warmest water the fabric care instructions allow. Opt for the "Extra Rinse" cycle. Some stains may require two treatments.
FABRICS YOU CANNOT PUT IN THE WASHING MACHINE: Use exactly as "Normal Use" states. To rinse, fill a bowl with warm water, saturate a clean cloth with the water. Gently wring, then press into the stain, moving back and forth with light pressure. This will pull the natural stain remover from the surface and replace it with fresh water, mimicking a rinsing effect. Rinse cloth and repeat the same steps until the stain remover is "rinsed" from the surface.
Always test for colorfastness on an inconspicuous area first.

Do not leave on silk or wool for more than one hour.

 
Avoid eye contact or breathing in the mist. If skin or eye irritation occurs, rinse with fresh water for 15 minutes. If swallowed, drink plenty of fresh water. Seek medical attention if problems persist.
** Also available for sale in 1 gallon containers to refill your smaller containers or add a pump to it. Contact planetrenu@gmail.com for pricing & shipping.
*** FREE LOCAL PICKUP always available