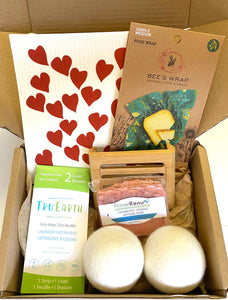 Our Love the Earth Box has some great eco items for yourself, cleaning, food storage and laundry. Feel good about this purchase as these products are reusable and eventually compostable. 
Each box contains:
1) Swedish Dishcloth- this dishcloth is light and handy, but also strong. It can be used as a sponge or a paper towel. It can hold upto 20x its weight in water and can be washed on the top shelf of the dishwasher. The ink is vegan so it's completely compostable when you're done with it. (Hearts print shown- available in a variety of prints)
2) Bee's Wrap (1 medium 10x11)- I love this product and have been using it for over 8 years. The Bee's Wraps can cover any food by itself or a leftover (a plate or a bowl).
3) Artisan all-natural soap that smell so good. Scents: Cranberry Orange, Eucalyptus Lemon, Essence of Enchantment, Lemon Verbena, Cinnamon Redwood Jasmine Tea & Patchouli & Orange
4)  Bamboo soap dish- beautiful, eco place to store your soap
5) Tru earth Laundry strips (2-pack)- No more need for large plastic containers full of laundry detergent- these compact 2x6 inch strips will clean your laundry and there are no harmful chemicals that will go back into the greywater.
6) Wool dryer balls (2-pack)- Ditch the dryer sheets (did you know they contain micro-particles of plastic?) and use these all-natural drying aids. Wool dryer balls will help reduce drying time, static cling and wrinkles. You can also add a drop of an essential oil to add a fresh scent.
* This great box is available for yourself, as a gift (we can mail it) and in bulk for corporate orders. Contact Amy at planetrenu@gmail.com for more info on large orders.