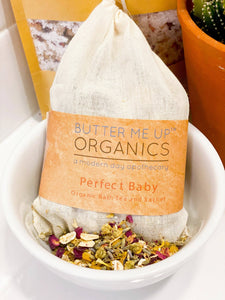 This wonderfully soothing and calming bath tea is perfect for babies and adults alike. A winning combination of organic botanicals all beneficial and safe for baby are combined in an unbleached muslin bag.
Steep under warm water in the bath and enjoy the calming effect it has on the baby's mind and soothing effect it has on his skin. This combination will leave your baby calm and smelling fresh! Use it on yourself as well!
Ingredients: lavender, calendula, chamomile, rose, oats.