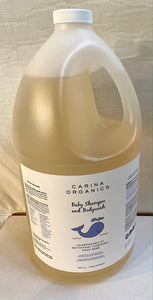 * For all online purchases, refills are only available with the purchase of a glass or aluminum bottle
Presently we offer 1 organic Baby Shampoo & Body Wash option.
Each option is $1.10 per ounce. 
First, go to the container section and choose your container (glass or aluminum).
Make sure the ounces of the container match the ounces you purchase here.
* Then, we will prepare your refill purchase and let you know when it is ready. 
Baby Shampoo & Body Wash
Carina Organics
Description:  An extra gentle and tear-free baby shampoo & body wash formulated with certified organic plant, vegetable, flower and tree extracts and scented with organic sweet pea essence. This formula lathers less, rinses easily, and leaves no irritating residue, making it gentle enough for even a newborn's delicate scalp.
Directions: Apply and lightly massage onto scalp and skin. Rinse thoroughly.

Just like some whales, some kids and babies have sensitive skin and prefer unscented washing suds. If you feel this way and would prefer an unscented hair and body wash, you can simply choose the 'unscented' option in the drop-down menu above!
This product is:
Synthetic Free

Tear Free

Hypoallergenic

Cruelty-Free

Vegan

100% Biodegradable (safe in rivers, lakes and oceans)

Paraben-Free

Soy Free

Gluten-Free

Dye Free

Certified Organic
Ingredients: Filtered Aqua, Potassium Cocoate (saponified Cocos nucifera / coconut oil), Glycerin (vegetable), Pinus banksiana (pine) extract, Magnesium Chloride (Magnesium Oil), Olea europaea (olive) fruit oil, Matricaria chamomilla (chamomile) flower extract, Urtica dioca (nettle) leaf extract, Taraxacum officinale (dandelion) leaf extract, Trifolium pratense (clover) flower extract, Acetic Acid (Apple Cider Vinegar), Cucurbita pepo (pumpkin) seed oil, Lathyrus odoratus (sweet pea) flower extract. 
** Also available for sale in 1 gallon containers to refill your smaller containers or add a pump to it. Contact planetrenu@gmail.com for pricing & shipping.
*** FREE LOCAL PICKUP always available