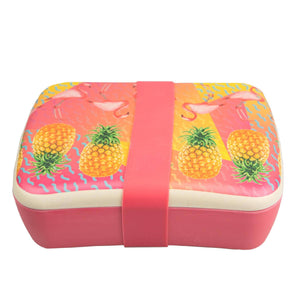 With a fun, playful design the Bamboo Lunch Box will transport you to your dream holidays on the beach.
This spill proof, environmentally friendly Bamboo Lunch Box is designed for anyone who wants to enjoy their lunch on the go.
Not only is our reusable lunch box lightweight and durable, by using the Bamboo Lunch Box you will help to reduce the waste on our planet which is something that makes us very happy.
Take it on the train, to Uni or work as the resealable, no drip lid supported by the silica band always guarantees easy and safe transportation. Ideal for adults and children alike this lunch box will brighten your day and make your break more enjoyable.
Bamboo is naturally sterile with no flavour taint, so your drinks taste pure and fresh. The lunch comes in a beautiful, natural carton box. The perfect eco choice!