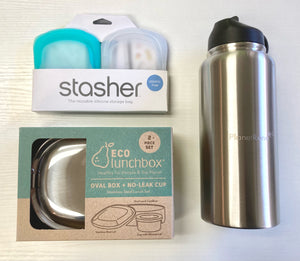 This is a great lunch gift set- great for you or someone you love!
It includes:
1) Pocket Stasher Bags- This clever little Stasher offers palm-sized convenience without even a hint of a Napoleon complex. Lightly frosted on both sides (mmm, frosting) for added discretion, the Pocket is the perfect air-tight transport for all your tiny valuables.
Dimensions: 3.5 x 4.5 x 1 in / 8.9 x 11.4 x 2.5 cm
Volume: 4 fl oz. / 118 mL
Tare weight: 1.5 oz / 43 gm
Endlessly reusable food-grade platinum silicone
 Non-Toxic: No BPA, BPS, lead, latex, or phthalates
Leak free Pinch-Loc™ seal
 Dishwasher, microwave, and oven safe up to 425 Fº
Label it with any non-toxic dry erase/chalk marker!
2) Oval & Snack Lunchbox- This 2-piece lunch container set includes a large oval container plus a smaller cup with a leak-proof silicone lid that's ideal for sauces, dips or other wet foods.
Go plastic-free with our ECOlunchbox Oval, a durable, reusable, toxin-free, lunch container set for your lunches. The large oval lunchbox measures 6 1/2 inches long by 5 inches wide and 2 inches tall fitting up to 3 cups of food. The accompanying cup fits 1 cup of food!
3) 32oz Stainless Steel Water Bottle- Planet Renu water bottles hold enough to make sure that you are drinking enough water! They will keep your 32 ounces of water (or other drink) cold for hours.