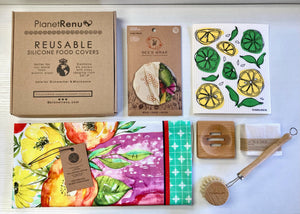 This cool gift set includes all the eco and stylish essentials a host or hostess will need.
It includes:
1) Clear Silicone Food Covers- The silicone food saver lids can be used to cover cooked food, fruit, salads, sauces, as well as drinks like coffee, tea, juice and more.
The set includes 6 clear silicone covers in various sizes.
The silicone stretching lids are BPA-free, food-grade and nontoxic.
* Dishwasher and freezer safe
2) Bees Wrap- 3 pack- Bee's Wrap is the sustainable alternative to plastic wrap for food storage, made from 100% organic cotton and responsibly harvested beeswax.
Ideal for the consumer seeking eco-friendly, organic solutions to reducing their plastic waste in the kitchen.
Warm hands softens the wrap & creates the seal. Great for sandwiches, cheese, snacks, and bread.
WASHABLE. Lasts up to 1 year. Fully biodegradable once it reaches the end of its useful life in the kitchen.
Includes: 1 x Small (7"x 8") - wrap half a lemon, avocado, or small snack. 1 x Medium (10" x 11") - cover a bowl, or bundle fresh herbs and fruit. 1 x Large (13" x 14") - wrap half a melon, fresh greens, bread, and cheese.
3) Swedish Dishcloth- It's sustainable, sturdy, and stylish. Each cloth absorbs 20x its weight and replaces 17 rolls of paper towels.
CONTENTS: 70% cellulose (FSC-Certified). 30% organic cotton (FairTrade & GOTS).
Screen printed with water-based inks. 100% biodegradable.
USE: Wash dishes. Wipe up spills. Clean mirrors. Use streak-free on most surfaces. Air dries fast, doesn't breed bacteria like a sponge.
REUSE: Wash up to 200 times, in top rack of dishwasher or in washing machine. Sterilize in microwave or boil briefly.
4) Organic Cotton Artsy Kitchen Towels- Super size approximately 20" x 30". 100% high grade organic cotton. Beautifully mitered corners and thoughtful hanging loop. Natural and long lasting dyes so the colors do not fade after many washings. Color safe. Colors: blue, green, tan,  pink, and orange.

This towel is 100% functional for drying dishes (or hands) but many of my customers press it and frame it so it could be wall art too. It can also be attached with a simple sleeve onto something like a bamboo rod and then hung to cover electrical boxes and other not so beautiful things.
5) Bamboo Soap Tray- Bamboo Soap Lift Soap lifts lengthen the lifespan of your soap by allowing them to drain properly. Our plastic-free, bamboo soap lifts are naturally antibacterial and will last a long time.
6) Bamboo & Sisal Scrubber Brush with Long Handle- A great alternative to a plastic dish sponge. The handle is made from sustainable bamboo and this brush has soft, plant-based sisal bristles. This scrubber is perfect for general cleaning in the kitchen or bathroom. It can even be used in the shower. 
7) Bar Dish Soap- All natural bar dish soap, Featuring hints of lemon and thyme. Easily cuts through grease and beautifies your counter space.
Eco-friendly and plastic free packaging 4oz/113g
Ingredients: Lye, coconut oil, castor oil, lemon essential oil, thyme essential oil, distilled water.