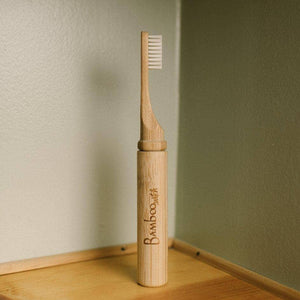 Bamboo Travel Toothbrush Collapsible for easy travel and on-the-go teeth cleaning!
Dimensions: Open: 7" height Closed: 5" height .75" diameter Weight: .6 oz
Remove the bristles with tweezers or pliers and check with your local recycling center for proper disposal. The bamboo handle is completely compostable.
Environmental Impact: Each plastic toothbrush that has ever been produced is still around on our planet and will be for hundreds of years. Eventually, microplastics will be left forever.